Vonu: The Search for Personal Freedom (AUDIOBOOK)
Over the past month or so, Kyle Rearden and myself have been digitizing Vonu: The Search for Personal Freedom by Rayo (A.K.A. El Ray and Tom Marshall),  edited by Jon Fisher, and originally published by Loompanics Unlimited in 1983. Below, is the audiobook version, as well as the transcribed PDF. Any errors by the author have been left for authenticity, but may have been corrected in brackets for ease of reading. Beyond that, any errors in the transcription are solely those of the transcriber. Enjoy.
---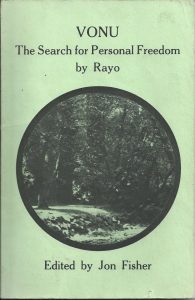 Anthology
Download the Word document.
Download the PDF.
Audiobook (Click the links to download, or use the players below.)

Vonu: Section 1, Narrated by Kyle Rearden (The Last Bastille blog)
Vonu: Section 2, Narrated by Shane Radliff (Liberty Under Attack)

---
Vonu: Section 1
---
Vonu: Section 2
---
For more great content like this, please consider donating to Liberty Under Attack. Alternatively, sign up for a free trial through Audible, receive a free audiobook, and help support us in the process. Lastly, make sure to sign up for LUA email updates.
Subscribe to Blog via Email