Quote of the Month: June 2016
[social title="" subtitle="" link="www.facebook.com/LUAtruth" icon="fa-facebook"][social title="" subtitle="" link="www.youtube.com/libertyunderattack" icon="fa-youtube"]
As an anarchist, I didn't celebrate "Memorial Day" on May 30th, but rather the freedom holiday, Voluntaryism Day. That said, even though I don't celebrate statist holidays, there are plenty of others that do. In regards to this specific one, I figured this quote by Murray Rothbard explains a lot of anarchists' frustration when they witness the worship of a piece of fabric and the State it represents. To provide a little background, Rothbard was discussing the incessant flag-waving that took place between the months of July-August of 1984, highlighting a couple of specific events. I'd recommend reading the full article, as well as my flag trilogy (1, 2, 3). Enjoy.
---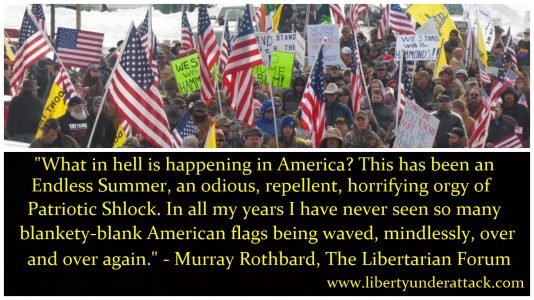 What in hell is happening in America? This has been an Endless Summer, an odious, repellent, horrifying orgy of Patriotic Shlock. In all my years I have never seen so many blankety-blank American flags being waved, mindlessly, over and over again. -Murray Rothbard, The Libertarian Forum, Volume XVIII, No. 7-8, July-August, 1984

---
For more great content like this, please consider donating to Liberty Under Attack. Alternatively, sign up for a free trial through Audible, receive a free audiobook, and help support us in the process. Also, make sure to sign up for LUA email updates. Lastly, feel free to gift us something off our Amazon wishlist.