Patriot Mythology: A Five Part Series
---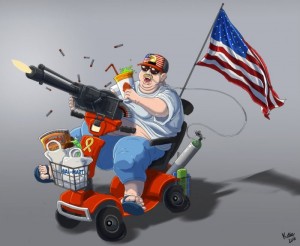 Patriot Mythology: Introduction, 1 of 5
Patriot mythology, simply defined, is the collection of unprovable or debunked assertions concerning the nature of our political relationship with the governments. Although a few of them originally began as simple misunderstandings that were eventually corrected, the majority of this stories appeal to the sensationalistic appetites of those who would prefer to financially profit from spreading such folklore rather than restoring constitutional government, or simply perpetuate the error, through lack of understanding. These will be addressed in this series of podcasts.
Referenced literature includes:
---
Patriot Mythology: Corporate United States Myth, 2 of 5
Some patriots like to repeat the claim that the national government is a shadowy mega-corporation. They usually combine this with other assertions that their legal name, when all the letters are capitalized, is evidence of being treated as chattel property, or that the fringes on the U.S. flag is proof that we have been conquered by foreign merchants. Seldom do they provide actual evidence for these claims, not to mention the proof that directly contradicts their claims.
Referenced literature includes:
A recurring accusation over time has been that the United States Constitution was conspiratorially debated behind closed doors and then foisted on the People. Examining the ratification period of the late 1780s tells quite a different story, one that reveals how the early American republic was formally established.
Referenced literature includes:
---
Patriot Mythology: America is Still a British Colony? 4 of 5
A common assertion made over the years have included the notion that the victory of liberty won by the American War for Independence was a fraud, and that England still owns the colonies. Similar to this is the related set of claims which say that Britain, in turn, is owned and controlled by the Vatican. Despite the numerous sources allegedly proving these claims, the truth appears to be not only be much simpler, but also quite shocking.
Referenced literature includes:
---
Patriot Mythology: Conclusion and Summary, 5 of 5
After covering a swath of myths permeating the alternative media, it becomes pivotal to understand the popularity of these rumour mills, and who benefits from spreading such misinformation. The magnitude of the time wasted and effort spent debating on such topics is time and effort not spent on more productive tasks. Lack of rationality, coupled with ulterior motives, gives rise to a society of the spectacle where reality matters not, as well as the proliferation of confidence scams.
Referenced literature includes: