Preference Ordering The Freedom Umbrella of Direct Action
By: Shane Radliff
July 19th, 2016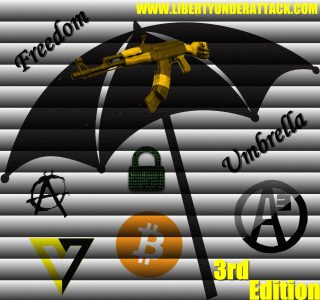 ---
Preface
With the release of the The Freedom Umbrella of Direct Action's third edition, it was decided that we concomitantly release our own individual judgments of what we thought was most efficacious, what was least plausible, and what encompassed shades of grey. We present, for your delectation, our preference ordering of the FUDA, according to what each of us subjectively valued. Consider preference ordering the FUDA's third edition yourselves, and be sure to let us know what your preferences are, as well as any personal experience you have using any of these methods by contacting Shane.
---
Most Effective
---
Mixed Efficacy
Selling government bonds
Financially independent early retirement

Freelancing (contract/part-time work, reselling, indie game development, etc.)
Permanent Portfolio (intensive saving)
Passive income ("lifestyle business," rental properties, house flipping, selling products/services online, etc.)
Small business ownership (cooperatives, firearm instruction schools, etc.)

Off-grid homesteading
Tax resistance
Agorism

Counter-economics (raw milk, lemonade stands, cannabis, underground railroads, street racing, gambling, fight clubs, ghost gunning, urban exploration, guerrilla gardening, etc.)

Spirituality (meditation, yoga, visualization, lucid dreaming, digital drugs/binaural beats)
TOLFA (The Online Freedom Academy)
Un-schooling (self-directed education/learner-driven education)
Extracurriculars (Boy Scouts, 4H, Habitat for Humanity, etc.)
Journaling (daily and/or dream)
Perpetual traveler
Alternative housing (tiny home, travel-trailer homesteading, van-dwelling, fulltiming [RV'ing], urban/stealth camping, AirBnB, shared housing)
Whistle-blowing (conferences, lectures, the Sam Adams award, grey hat hacker leaks of classified information)
Ride-sharing (Uber, Sidecar, Lyft)
Free software (free and open source computing, Linux distros, smartphone applications, etc.)
---
Least Effective
---
For more great content like this, please consider donating to Liberty Under Attack. Alternatively, sign up for a free trial through Audible, receive a free audiobook, and help support us in the process. Lastly, make sure to support LUA via Patreon.