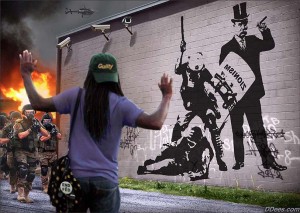 On tonight's broadcast of Liberty Under Attack, we present a special edition titled, "The United Police States of America." We were joined by Kyle Rearden from the Last Bastille blog once again to assist us in tackling this beast of a subject.
Our goal is to present the most comprehensive overview of how and why the United States of America in the early 21st century is a police state and we hope we have borne our burden proof.
Make sure to check out Kyle's blog: thelastbastille.wordpress.com
And also make sure to check out the upgraded LUA site and also Matt's newest article: libertyunderattack.com
Liberty Under Attack is committed to the truth and freedom. Plain and simple. We are firm believers in the fact that there is nothing new under the sun, and that those who don't know history are doomed to repeat it. Surely, both of those are true and it's very evident when looking at everything going on in the world. LUA is here to break down the events happening, prove to you who is behind it, with documentation, and assist you with connecting the dots.