Guerrilla Capitalism: How to Practice Free Enterprise In an Unfree Economy by Adam Cash
If you appreciate the work put in to digitize this, consider checking out the LUA Pub store and placing an order. And last but not least, share this around!
---
Digitizer's Note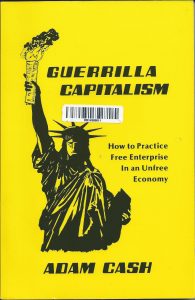 The following is Adam Cash's Guerrilla Capitalism: How to Practice Free Enterprise In an Unfree Economy, digitized by yours truly. The book has been transcribed in the exact manner it appears in the paper copy, including any grammatical mistakes made by the author. In most circumstances, I have denoted such an occurrence with [brackets]. Any other spelling or grammatical mistakes are solely the responsibility of your humble transcriptionist.
The book was copyrighted by Loompanics Unlimited in 1984, yet they have since gone defunct, with most of their publications not being reprinted. Outside of the ~40 picked up by Paladin Press, they are only available from second-hand stores (i.e. Amazon), and some of them can get quite expensive since they are rare and out of print. Our goal is to make this valuable information available as FREE downloads for generations to come.
Before turning you over to Mr. Cash, there are a couple of things worth noting. Obviously, we here at Liberty Under Attack Publications do not recommend or advocate anyone "break the law." If you decide to do anything with the information found in this book, it is done at your own risk and of your own accord.
Secondly, it's important to remember that this book was published in 1984—banking and finance laws have changed drastically, and therefore, some information in this book may be unusable, or may need to be adapted to the current times.
If you would like to check out the other releases under Liberty Under Attack Publications, or if you would like to support our efforts, visit www.libertyunderattack.com. Please enjoy and laissez-faire.
Shane Radliff
May 2017
Bloomington, Illinois
---
No Fields Found.