FPRN Merger #1: Shane on Disassociation Nation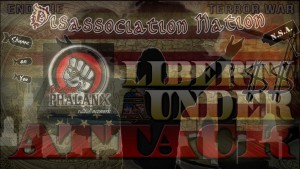 Today, I had the pleasure of joining Paul and Nick on Disassociation Nation to discuss a number of important subjects. We first discussed my Adventures in Illinois Higher Education, then moved onto the dangers of public education in general. In the C Block, the Cop Block block, we looked at a couple of violent situations involving police, and Paul and I discussed the police more generally. Finally, we examined a couple of videos relating to self-sufficiency.
It was a great time and I hope we can have more FPRN mergers in the future. If you are looking for solutions and ways to make yourself freer, the Freedom Phalanx Radio Network is your home.
---
For more great content like this, please consider donating to Liberty Under Attack. Alternatively, sign up for a free trial through Audible, receive a free audiobook, and help support us in the process. Lastly, make sure to sign up for LUA email updates.

Podcast: Play in new window | Download
Subscribe: Apple Podcasts | Android | Email | Stitcher | TuneIn | RSS