"Pet Me or Kiss Your Internet Goodbye" (Shane on the Freedom Feens, 11/10)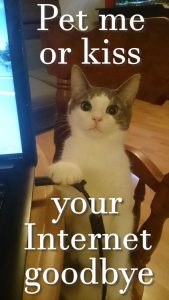 This morning, I had the pleasure of being on the Freedom Feens with Lou Feen and Lisa DeLasho. The crux of the discussion was focused on the 2016 Presidential (S)election; more specifically, our thoughts on it, how a Trump presidency came about, the riots that followed across many major US cities, some historical events (i.e. the main reason the Constitution was ratified was because the Articles of Confederation didn't have the taxing power necessary to pay off the war debt), and much more.
In the final segment, MWD joined us and talked a bit about BipCoin.
In regards to the unique title, my cats found their way into the basement and started causing ruckus. The culmination of that led to them ripping out my Ethernet cord.
It was fun as always, and I highly recommend giving this show a listen.
If you enjoyed this broadcast and appreciate the work we do, please consider contributing financially. You can make a one-time PayPal donation by clicking the image above, you can contribute via Patreon using the image below, or you can use the buttons on the sidebar to toss us some Bitcoin, sign up for a monthly contribution, gift us something off of our Amazon wishlist, or support us through our various affiliate links, such as Audible.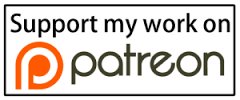 Show Notes from the Feens:
Lou, Lisa, Shane, and MWD discuss the election fallout and the safe spaces for the new MTV Generation (and Bill Buppert saying In Communist utopias, GRAVES are the primary safe space), Lisa Feen inventing BipCoin fractional reserve banking lol, and the REALLY bad idea to try to put gun use on a blockchain.
---

Podcast: Play in new window | Download
Subscribe: Apple Podcasts | Android | Email | Stitcher | TuneIn | RSS