Solutions
---
Vonu: VOluntary and Not vUlnerable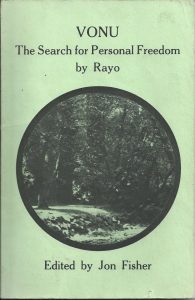 Vonu is an anti-political lifestyle and strategy of voluntary social exclusion, whose ideal goal is to become as invulnerable to coercion as humanly possible. The strategy of vonu varies on an individual basis; for example, you could have a lot of interaction with the statist/servile society while importing-exporting, you could become completely self-sufficient and move far out in the woods, and any combination in between.
Vonu can be done individually, with a "freemate" (i.e. a companion), or it can be done in a small or large group, depending on your goals. Although, Rayo does recommend vonuing by yourself first, as a psychological test of your mind (i.e. Can I handle this lifestyle change?).
There are multiple strategies of vonu discussed, which include: RV living, tent camping, living on the water, vonuing in cities, among others.
Some may choose to go the route that Rayo took and disappear completely, although that's not a requirement. As mentioned previously, it depends on your goals, your strengths, and the current political situation. For more information, check out Rayo's book Vonu: The Search for Personal Freedom.
Anthology
Download the Word document. | Download the PDF.
Audiobook
Vonu: Section 1, Narrated by Kyle Rearden | Vonu: Section 2, Narrated by Shane Radliff
Further Reading
Liberty Magazine 1987 (Three Articles on The VONU Strategy)
In Defense of Opting Out (Wally Conger)
Vonu (Kevin Swindle)
---
Security Culture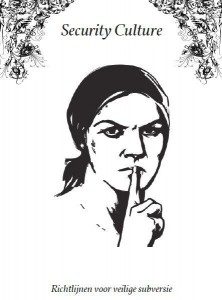 Security culture is the direct application of the right to privacy. For more information, check out Kyle Rearden's anthology and audiobook entitled, Just Below The Surface: A Guide to Security Culture, which discusses the concept and all of its various facets in-depth.
---
Introduction
Donny Don't: Security Culture Puppet Show (Earth First)
Aric McBay On Security Culture, May 2011 (Deep Green Resistance)
Introduction To Security Culture (Center For A Stateless Society)
What Is Security Culture? (Crimethinc Ex-Workers Collective)
A Critique of Activist Security Culture
120418 – How Near-Miss Events Amplify or Attenuate Risky Decision Making (Management Science)
Security Culture – A Beginner's Guide (Deep Green Resistance)
---
Digital/Computer Security
What is a Digital Shadow? (Tactical Technology Collective)
Digital Security For Activists (RiseUp)
Digital Security: Privacy For Human Rights Defenders
Surveillance Self-Defense – Mac OSX Edition (Electronic Frontier Foundation)
Surveillance Self-Defense – Windows OS Edition (Electronic Frontier Foundation)
Surveillance Self-Defense International (Electronic Frontier Foundation)
Defending Privacy at the US Border – A Guide for Travelers Carrying Digital Devices (Electronic Frontier Foundation)
The Uber-Secret Handbook – Anonymous
Encryption Works – How to Protect Your Privacy in the Age of NSA Surveillance (Freedom of the Press Foundation)
150527 – Are You Over-Exposed? Online Lessons From IRS Hack (Fox Business)
Reporter's Recording Guide (The Reporter's Committee for Freedom of the Press)
How To Encrypt Chat And VoIP With Jitsi & XMPP – Pillow Fortress blog
How to Configure & Set-Up Jitsi PDF
Choosing Secure Passwords (Bruce Schneier)
Human Selection of Mnemonic Phrase-based Passwords (Carnegie Mellon University)
110828 – Making Random Letter Passwords Memorable (Arnold Reinhold)
Passwords Are Not Broken but How We Choose them Sure Is (Bruce Schneier)
---
Affinity Groups
Security Culture For Activists (The Ruckus Society)
A Practical Security Handbook For Activists (Campaigns Activist Security)
How To Start and Train a Militia Unit (PM 8-94)
How To Start A Militia and Get Away With It (Freedom Guide)
Infiltrators, Informers, & Grasses – How, Why, & What to Do If Your Group is Targeted (Activist Security)
---
Zine is most commonly a small circulation self-published work of original or appropriated texts and images usually reproduced via photocopier. If you are interested in printing these out in hard copy, please follow these instructions.
Security Culture: A Handbook For Activists (Tao Communications Zine)
Security Cultures: An Interactive Sock Puppet Farce (Columbus Anarchist Black Cross Zine)
---
External Links:
Security Culture (Deep Green Resistance)
Surveillance Self-Defense (A Project of the Electronic Frontier Foundation
Infiltrators & Informers (Activist Security)
Security 23: Internet Security for Everyone
Communications Security  (RiseUp)
State Law Recording Index (Digital Media Law Project)
The Reporter's Privilege (Reporter's Committee for Freedom of the Press)